Home Learning
Thursday 6th May 2021
We have been looking at what animals we find on the farm this week and learning some facts about them.
Literacy
Look at the information about sheep by clicking the link below.
SHEEP | Animal Book for Kids Read Aloud - YouTube
You could also encourage your child to look at their own books or ask you about some simple sheep facts. E.g. A baby sheep is called a lamb. Sheep have a woolly fleece. Sheep eat grass. etc
Find out some facts about sheep. Draw a picture of a sheep and write at least one sentence about sheep. Encourage your child to think of the sentence/s to write and have a go at writing themselves using the sounds and words they know. Help them sound out unknown words. Sheet provided.
Phonics
Complete the phonics sheet in your pack.
Word Box- See if you can read all the words in your word box.
Use the ideas on the 'Reading Tricky Words' sheet if you need to practise some of your tricky words.
If you have time you could play a phonics game. Choose the sounds to practise.
Spooky Sounds - Spooky Sounds (ictgames.com)
Buried Treasure - https://www.phonicsplay.co.uk/resources
Maths
We have been looking at shapes this week and describing them . We have talked about how many sides and corners they have and if they have straight or curved sides. We have talked about rotating shapes.
Look at the 'Shape Detectives' PowerPoint by clicking here.
Complete the sheet by cutting out the shape and matching them.
Extension
You could make your own shape picture by drawing around objects you can find at home.
If you have time play 'Whack-A-Mole' (click on the link below) and see how far you can count. Simply click on the numbers in order.
https://www.ictgames.com/mobilePage/whackAMole/index.html
Home Learning
Reception Email is Reception@stteresa.bham.sch.uk
Here is our class email address if you would like to send me work you have been doing at home.
We look forward to seeing you all on Monday.
Have a good Friday.
Friday 5.03.21
Literacy
The Billy Goats Gruff songs, rhymes and listening games to join in with and the story. Listen to outdoor countryside sounds. Individual sounds: stream, hooves, goats bleating
EYFS: Listen and Play - The Billy Goats Gruff - BBC Teach
Talk about your favourite part of the story. Think about what the characters say at different points in the story.
What are they saying? Fill in the speech bubbles – sheet provided in pack or click here.
Phonics
Revise speed sounds.
Set 1 Speed Sounds for Reception and Foundation Stage Learners - YouTube
Phonics: The 'igh' sound - YouTube
Word Time Phonics Session Link - YouTube
Tricky Word Song
Practise tricky words.- me, be, you, are, was, all, they, my.
Phase 3 Tricky Words Song Say Hello To - YouTube
Maths – Week 2 Session 5: Making 10
Today's lesson is about making 10 using 3 amounts.
Building 9 & 10 - Week 2 | White Rose Maths
Activity – Ask a helper to hide 10 objects. Then make a giant ten frame on the floor. Search for the objects and put them in the ten frame. This activity is in your pack or click here.
Complete I Spy Number Nine and Ten in your pack. Click here for sheet.
Explore ways to make 10 with this game. Ways to Make - 4-6 year olds - Topmarks
Topic ( KUW/EAD/DT) – (Understanding the World)
Look at the information clip about goats. What facts have you found out?
* GOAT * | Animals For Kids | All Things Animal TV - YouTube
P.E. – Try these workouts.
5 Minute Move | Kids Workout 3 | The Body Coach TV
Super Mood Movers - Fit and well - BBC Teach
Thursday 4.03.21
It is World Book Day. Grab your favourite story book and show it to us on our Google Meet 10-10.30 a.m. on Thursday. You can tell us why you like it or just show it.
Here are some links and activities if you have time.
Share A Story Corner videos have familiar characters and easy to follow stories, and tips for reading together. Look at the pictures together, guess what the characters are up to and ask your child what they think will happen next.
Click the links for recommended story videos and resources.
Share a Story Corner (worldbookday.com)
World Book Day Early Years Resources
Literacy
Read the story of 'The Three Billy Goats Gruff' using the Powerpoint. Click here.
Encourage your child to join in with the repeated refrains.
Sequence the pictures in the correct order. Pictures provided in your pack or click here.
Phonics
BBC iPlayer - Alphablocks - Series 3: 16. Tightrope
igh Words | Phase 3 Phonics - YouTube
Read an e book.
Maths – Week 2 Session 4: Making 10
Today's lesson is about amounts that add up to 10.
Building 9 & 10 - Week 2 | White Rose Maths
Activity – Cut out the numeral cards and ten frame cards from your pack or click here.
Place the numeral cards around the room. Then turn over a ten frame card and match it with the numeral to make 10 together.
Topic (EAD/DT)
Join in with the song.
Three Billy Goats Gruff Song - YouTube
Explain that the goats need a new bridge to cross over the river so that the troll doesn't scare them. Activity guidelines click here.
Can they help by making a bridge for the goats? You could use bricks, tubes, card etc.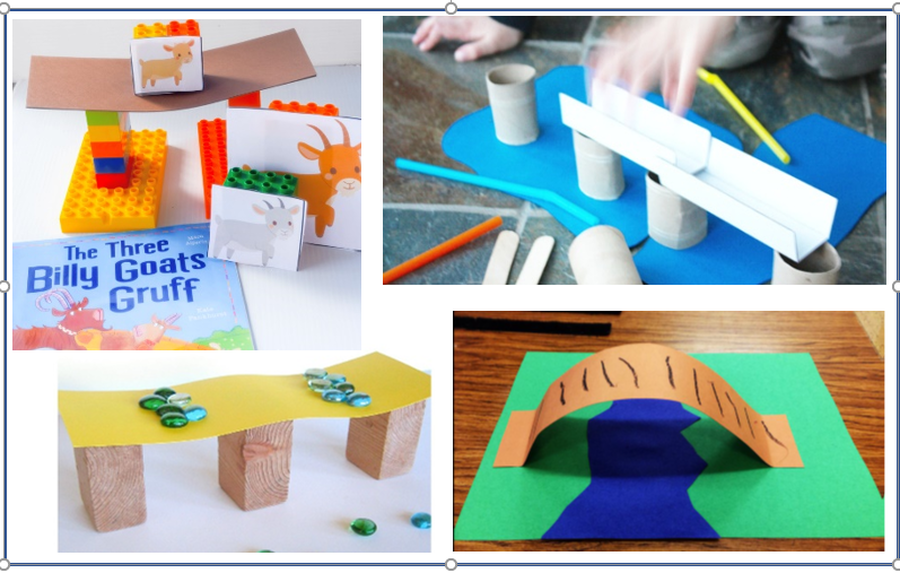 Thank you for all your great home learning work.
Reception Nativity
We enjoyed acting acting out the 'Nativity' story
We have been trying out lots of activities and making new friends.