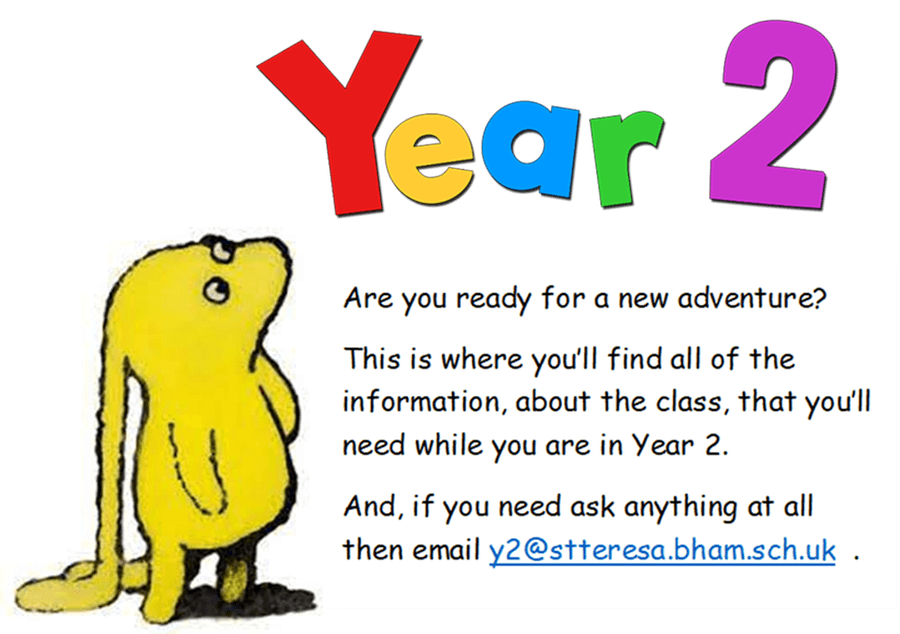 Friday 15th October 2021
Hello again Year 2 (and your families). Here are the spellings for next week.
A quick reminder too that we visit the Guru Nanak Gurdwara next Thursday and that everyone will need to wear a head covering. (The spelling test will be in the afternoon.)
In addition to the spellings, there is also a maths homework booklet. This covers the place value work that we have been looking at in school. Please try to do it a little at a time. The hand in date is the first day back after half term. (If any parents/carers would like a copy with the answers then please email me on y2@stteresa.bham.sch.uk and I'll make sure that one gets to you.)
I'd also like to introduce Miss Nell who is a teaching student from Newman University. She will be with us until just before Christmas and will be working with different groups in the class. We are very pleased to have her with us.
Finally, I would like to wish you all a very happy and safe weekend.
Mrs Byrne
Friday 8th October 2021
Hi Year 2,
I hope that you have enjoyed your week.
A Maths homework booklet will be coming home with the children next week so please do look out for it.
Here are your spellings for this week. You will also get a copy to take home, of course, but they are here too in case your forget them.
Mrs Byrne
Week beginning 4th October 2021
Apologies for the delay in getting the spellings to you for this Thursday's assessment. Here they are now (there will also be a paper copy coming home). Here is wishing you all a good week.
Mrs Byrne
Hello again Year 2,
Just a few notes and reminders about Year 2 as we won't be meeting up for a face-to-face briefing.
As most of you will know, your teacher for the year is myself, Mrs Byrne.(There's no photo here but, if you want to know what I look like then please click on the assembly on the front page of this website!)
I will usually be will the class each day, apart from on Monday afternoons when Mrs Gogna takes the class for PE and Music and Tuesday morning when Mrs Lal teaches Science and ICT.
Mrs Murdoch will also be providing some class support during the week, particularly with reading. For this reason, it is important that reading books are brought into school on Tuesdays and Wednesdays as they will usually be changed on one of those days. If your child needs a new reading book on a Friday for the weekend then they should bring their book in and ask to change it.
Homework for the first few weeks is in the form of spellings to learn and home reading (which is still very important). Please do remember to mark which pages of their book your child has read at home. They can also do this themselves with a little note from you written onto the page in their reading diary. (Just to say that they have been heard and if there were any difficulties.)
A little later in the term, maths homework will be sent home. This will be by topic rather than by week and will have a completion date written on it. I'll give the question booklets to the children but will also let parents have the answers!
Most importantly, if you have any questions at all, then email me at the address above and I will get back to you as quickly as I can. It has been lovely meeting you all at drop-off and pick-up and I am very much looking forward to the rest of our year together.
Mrs Byrne
Hi Year 2,
Another week is over! Here, as usual is your spelling list for next week. You should also find a copy in your child's bag.
There is also a copy of our overview for most of this term so that you will know what your child is learning and will be able to support them.

Here are your spellings to learn for assessment on 23rd September. You will also be given a paper copy.
Well done to everyone who tried hard with their spellling assessment. Here is a copy of the assessment that the children did with the words included.

Welcome to the start of the new term.
PE will be on Mondays. This means that from Monday 13th September onwards, children should wear their PE kits to school (as they did in Year 1).
Friday 10th September
Your child should have brought a spelling list home today. If they don't have it for any reason then it's here too. We will work on these spelllings in school but it does really help the children if they practise them at home too.