WE ARE A BUSY CLASS. KEEP CHECKING ON HERE TO SEE WHAT WE HAVE BEEN UP TO...
LOVE THE CHILDREN, MRS ALLPORT, MRS DAWSON, MRS GOGNA, CHARLEY & REBECCA Xxx (p.s Mrs Allport apologises if the photos are upside down or sideways, she has tried a lot of ways to sort them!)
CHILDREN, REMEMBER WEDNESDAYS ARE HOMEWORK AND SPELLING TEST DAYS. PLEASE BE PREPARED FOR THESE.
Our topic plans are here please click on them to find out what we are up to each half term.
OUR BOTANICAL GARDENS TRIP!
We had a fantastic day on Wednesday 3rd July, at Birmingham Botanical Gardens. We really impressed our guide with our outstanding knowledge of the parts of plants and how plants are pollinated. He said he's never had such a knowledgeable Y3 class before! We then went investigating plants in the four different glasshouses. We found some really interesting and unusual plants. We had an amazing time on the play equipment too.
OUR FIRST HOLY COMMUNION!
We were nervous and excited at the same time. Everyone said how wonderful we were with our readings. Fr David said we were very reverent and did so well. (Apologies if we are looking in different directions, there were lots of people trying to take our photos at the same time!)
In our science work we dissected flowers to identify their different parts to understand pollination and fertilisation.
WRITER OF THE WEEK!
NOT 1, NOT 2 BUT 3 WRITERS!
A HUGE WELL DONE TO SAMUEL, BALRAAJ AND KAIDEN.
THEY WROTE FANTASTIC REPORTS ABOUT INDIA.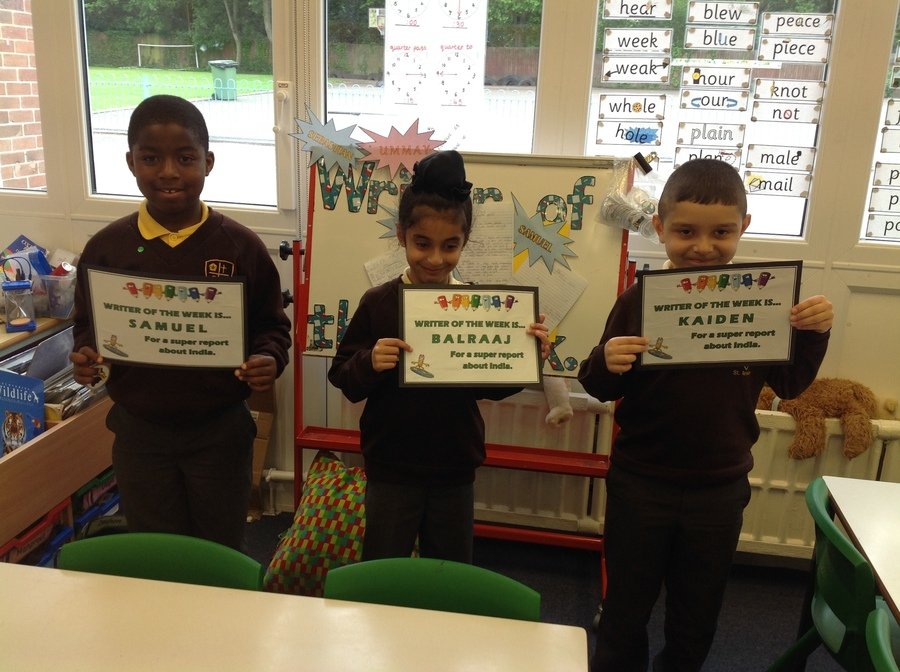 WRITER OF THE WEEK!
UMMAY is this week's writer of the week.
She has produced some superb writing about Secret Garden.
Her punctuation and spelling is always very good.
Ummay's writing is on display now!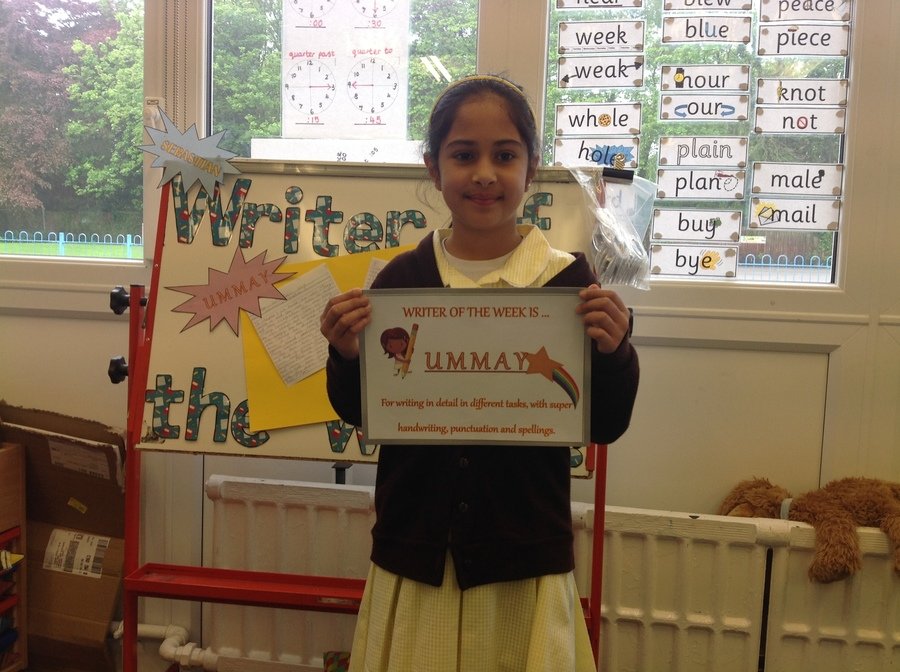 "MISS THIS PROBLEM IS IMPOSSIBLE!"
We were challenged to use just 10 dominoes to make a square with 8 spots on each side. This really made us think! We had to think systematically to solve it. It did seem impossible but we solved it..... eventually!
Y3 WANT YOUR OLD PENS!!
In assembly today (Friday 3rd May),we explained to the rest of the school about how we are going to recycle old pens.We have made a box (recycled naturally) for each class to put in any pens that do not work. When the boxes are full, they will be taken to a special recycling plant. We decided to do this after we saw The Blue Planet Live Lesson. We were really sad about the number of sea creatures being hurt or even killed by the amount of plastic in the seas.
WRITER OF THE WEEK!
Our first writer of the week is SEBASTIAN!
He wrote a fantastic story over the holidays.
It is on display in the classroom now.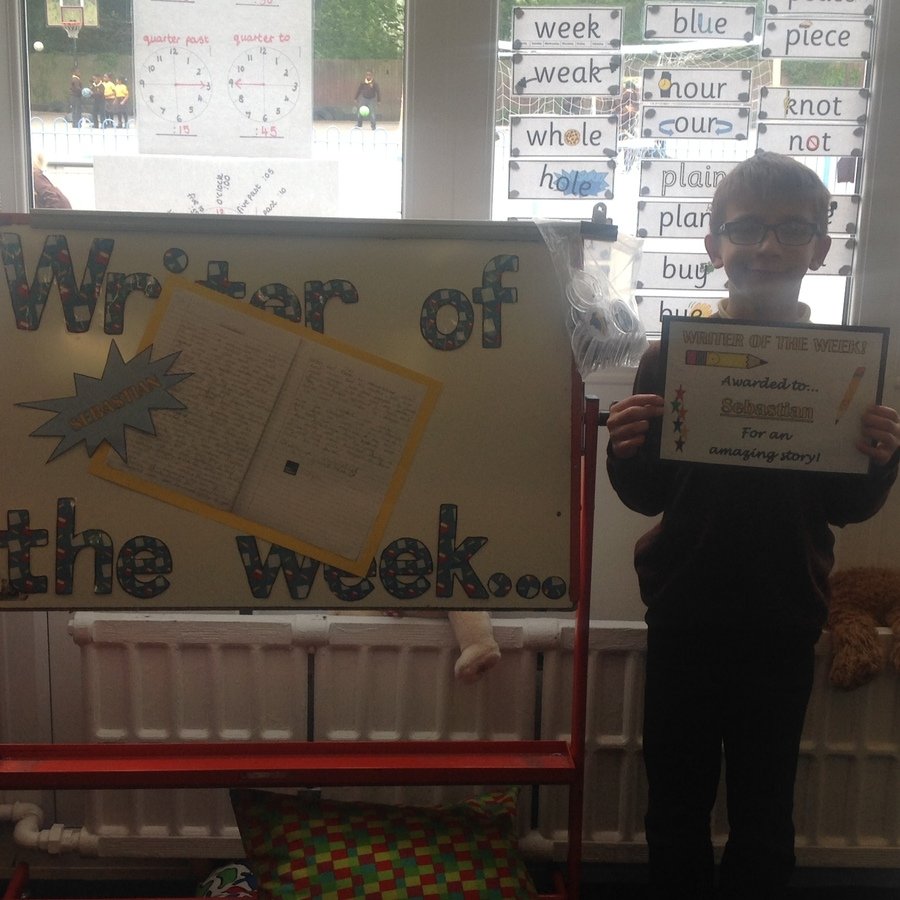 GOODBYE CHARLY! THANK YOU FOR BEING WITH US. WE LOVE YOU AND WILL MISS YOU MORE....
ACTING OUT!
Mrs Gogna taught us drama using play scripts. We enjoyed acted them out in front of each other in the hall. Watch out, you could see us on the TV one day...
Spring Term
MINI BEAST INVESTIGATION
We investigated mini-beasts we found in our school playground. We then went back to class and used classification skills to identify the mini-beasts we found. We were really pleased with our findings!
Spring Term
MATHS PROBLEM REASONING & SOLVING
We have been working together in pairs using our mathematical knowledge to solve problems. We are finding this challenging but we are really enjoying having a go!
Spring Term
THE BIG BANG FAIR
On Thursday 14th March we went to the Big Bang Fair Science show at the NEC. We had an amazing time and got to do some fantastic things but we all agree that we enjoyed the Weirdology show the best!
Spring Term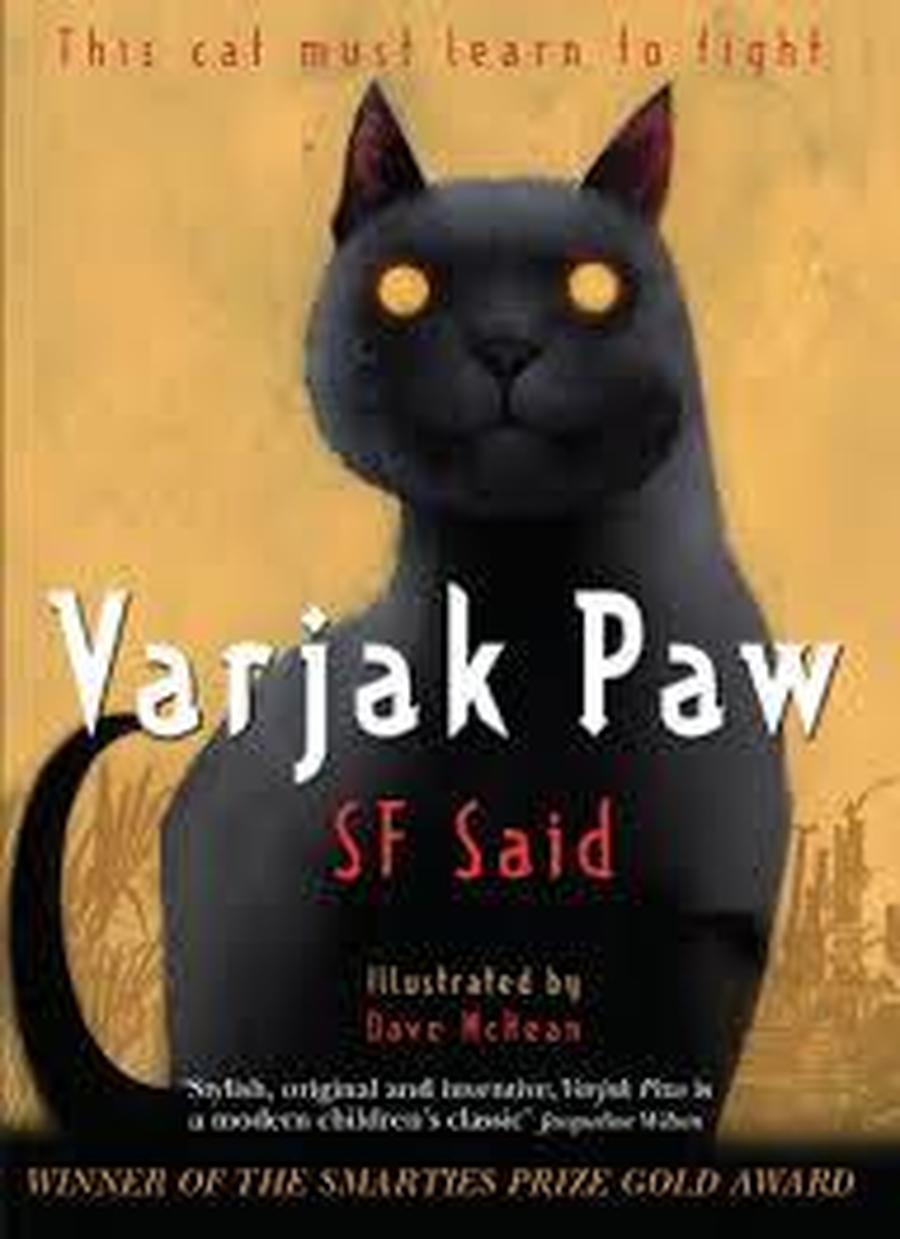 We wrote postcards as if we were Varjak Paw. Click here to go to watch our Varjak Paw Videos page and see us reading our postcards.
Spring Term
E R U P T I N G V O L C A N O E S!!
Our volcanoes erupted today! We had so much fun making it happen. Although the smell of vinegar was quite strong!
Spring Term
In our PE lessons we have been using the Bosus. Here we are doing actions to the alphabet. Can you see cats? or even flossing?
Spring Term
We have loved reading the story Escape from Pompeii. We have made our own volcanoes using plastic bottles and papier mache. We will be painting them soon and creating our own eruptions! Watch this space!
Spring Term
Mrs Dawson to the rescue! A baby hedgehog was our playground! Mrs Dawson rescued the hedgehog and took it to a hedgehog sanctuary. Our hedgehog was identified as female so we decided to call her Teresa!
Autumn Term
We made our own fossils. It was messy but fun!
Autumn Term
We have started our Science topic of Rock On! We have been investigating the durability and permeability of rocks. We had a lot of messy fun doing this.
Autumn Term
We had a fascinating visit to Singers Hill Synagogue. We were shown around by our lovely guide Geoffrey. We learnt so much and were praised for our wonderful behaviour and interest.
Autumn Term
Check us out working hard on measuring accurately.
Autumn Term
We have been working on written methods for addition. Check us out trying to beat each other in a Maths Bingo. Competition was fierce!
Spring Term
KS2 Nativity. We had the very important job of acting in front of lots of mums and dads and parishioners at St Teresa's church. We had a lot fun dressing up.
Autumn Term
As part of our First Holy Communion preparations we got together, to think about what advent means to us. Our mums and dads helped us to set out the Nativity scenes in our classroom and the entrance hall.
Autumn Term
We celebrated Children in Need day by wearing our own clothes! Aren't we a good looking bunch? :)
Autumn Term
We had Nurse Ruth come into talk to us about the importance of washing our hands. We were fascinated to see the germs on our hands under a UV light and it made us realise how scuzzy we were! *hopefully our hands are a lot cleaner from now on...
Autumn Term
We went on a retreat to St Mary's Convent. Sister Noreen and Sister Brigid, role played the Last Supper with us. This helped us to understand the how the Last Supper is part of the Mass and Holy Communion.
Autumn Term