Year 5 2018-2019
Welcome to Year 5! Please have a scroll through our page to find out what we have been up to...
Fun making Shaduf's! Year 5 have shown off their collaborative skills by working together to design and make their own Shaduf's. A Shaduf is a hand-operated device for lifting water, invented in ancient times and still used in India, Egypt, and some other countries to irrigate land. Typically it consists of a long, tapering, nearly horizontal pole mounted like a seesaw. All their hard work saw Year 5 receive whole class certificate at the celebration assembly on Friday from a very proud Miss Gold! Well done Year 5.
What a thoroughly enjoyable day we had at The Alexander Stadium! Staff and Key Stage 2 Pupils from St Teresa's joined other schools to take part in athletic events such as high jump, long jump, javelin throw, tennis ball throw, sprints and the 400 meter sprint. All Key Stage 2 pupils pulled together in support of their school mates, cheering them on throughout the day's sporting events. We had some fantastic achievements throughout Year 5 on what was a very successful and rewarding day out.
Please note below the SRE Growing Up sessions for Year 5 after half term:-
14th June 2019
17th June 2019
18th June 2019
27th June 2019
28th June 2019
1st July 2019
3rd July 2019
4th July 2019
If you have any questions relating to these sessions please do not hesitate to speak to me.
Thank you
Miss Gold
A JOURNEY BACK TO ANCIENT EGYPT
Year 5 visit to Birmingham Museum & Art Gallery to develop deeper knowledge and understanding of life in Ancient Egypt - 20th May 2019. A fun and enjoyable day had by all!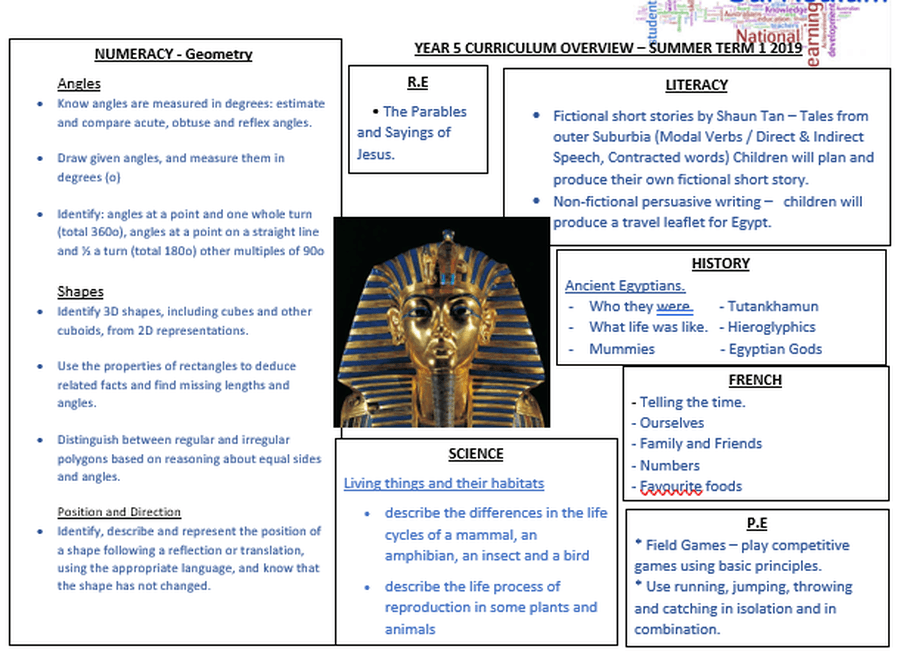 The children had a lovely time in the Life Caravan today. They learnt all
about how to keep healthy and safe, gain confidence, have fun and
share ideas and skills. The interactive programme is designed to help
develop the knowledge, skills, attitudes and understanding that children
need to make healthy life choices.
St Chad's Choral Outreach
Congratulations to Year 5 and Year 3 for their hard work and commitment throughout the ten week Choral Outreach Programme. The sessions culminated in joining children from St Joseph's, St Alban's and St Philips' primary schools for a spectacular singing performance at Birmingham's St Chad's Cathedral.This is an exciting project attached to the Metropolitan Cathedral and Basilica of St Chad Birmingham, where Vocal Specialists work with Primary schools in the diocese to teach, encourage and develop children in singing and music. Well done children!

Summer 1 Geometry - measuring angles. Watch the video below to help support you with your learning of how to measure angles accurately.

RE: Researching different gospel accounts of Jesus' baptism.
NEC Big Bang Science Fair: 14th March 2019.
What are percentages? Have a look at the video above to find out more...
Want a little help to order fractions with unlike denominators? Check out the video above!
Finding fraction multiplication tricky? Use the video above to help you...
Year 5 Literacy - Poetic Style.
Pupils have been identifying and analysing poetic styles from a range of poems presented to them by Pie Corbet, John Kitching and many more. Studying features such as the use of Metaphors, Similes, Onomatopoeia, Rhyme, Rythm, Free Verse and Personification helps to give an understanding and appreciation of different styles of poetry. Check out the video below to sample the work of one of Year 5's favourite poets - Valerie Bloom. Enjoy!
Thank you to all who attended Year 5's assembly on Ancient Greece! The children loved sharing their knowledge and understanding of this fascinating period of world history (plus enjoyed the chance to get dressed up!)