CARITAS CHRISTI IN URBE
'Securing the future of Catholic Education in the inner city Birmingham area'
The Caritas Christi In Urbe group of schools are the following Catholic primary schools:
St. Augustine's

St. Chads

St. Clare's

St. Edmund's

St. Francis'

St. Joseph's, Nechells

St. Patrick's

St. Teresa's

St. Vincent's

The Oratory
and the following Catholic secondary schools:
St. John Wall

St. Paul's Girls'
These schools work alongside Newman University and the Birmingham Catholic Primary Partnership.
These schools and agencies work closely together to provide opportunities for our children.
Click the link above for further information
Please go to 'Special Events' to see photographs of the 2019 and 2021 Residential Experiences.
Kingswood Residential 2018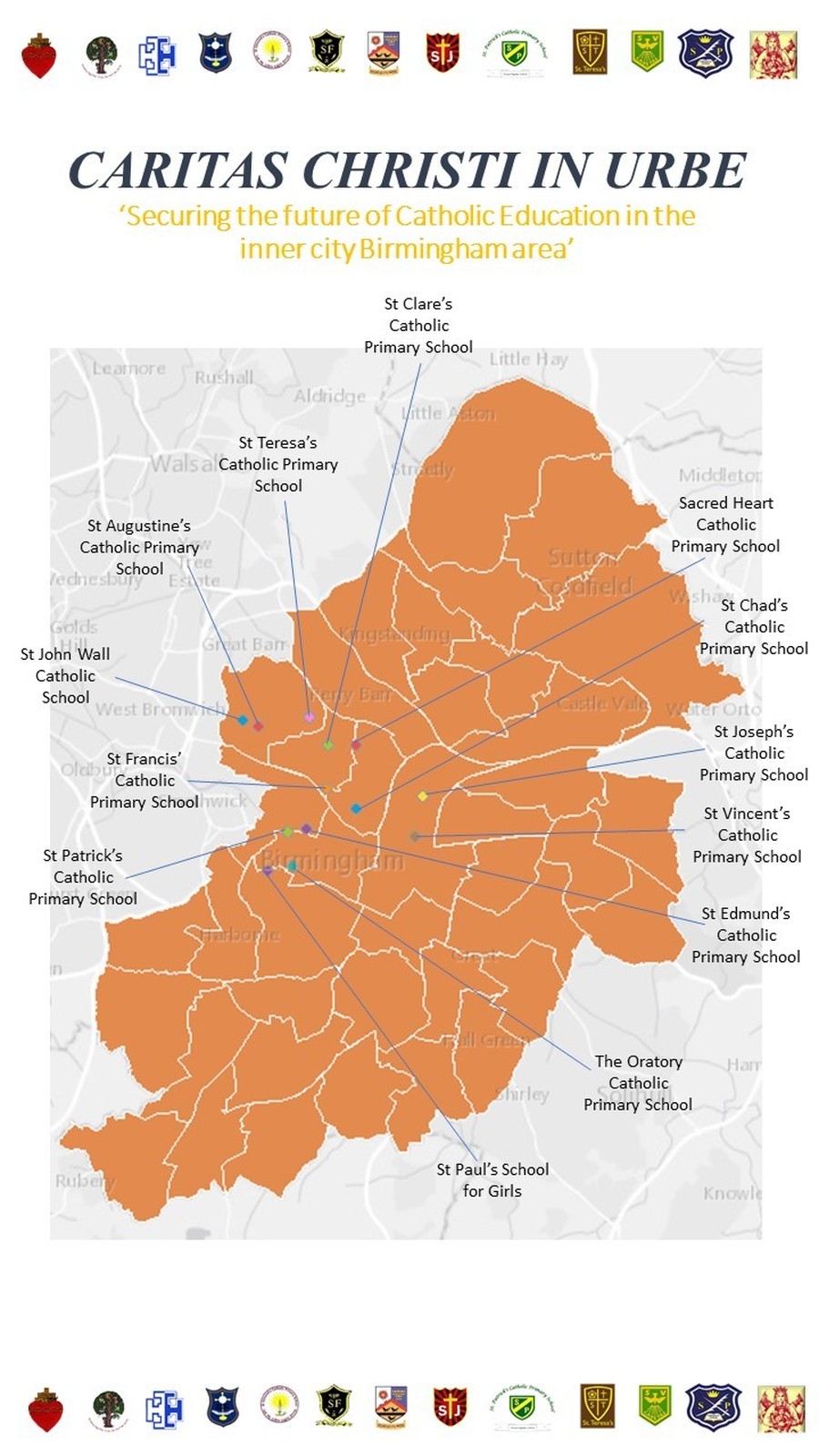 Caritas Christi In Urbe Advent Carol Service at St. Chad's Cathedral - 15th December 2017.
Below are photographs of St. Teresa's children at the Carol Service where a number of Caritas Christi schools joined to share the Nativity story in gesture, song and readings.
Residential 2017
From Friday 22nd to Monday 25th September 2017, groups of children from Year 4 and Year 5 of the Caritas Christi In Urbe Schools, supported by 'Guardian Angels' from St. Paul's Girls' Secondary School and staff from the schools went to Kingswood Activity Centre in Staffordshire for our first group residential experience.
Please look at the photographs of the children's experiences.
Staff from the Caritas Christi In Urbe Schools meet regularly. The following groups meet:
Head teachers

R.E. leaders

Maths leaders

English leaders

Inclusion leads (SENCOs)

Science leaders

DSLs (Designated Safeguarding Leads)

Early Years and Reception teachers

P.E. leaders

Computing leaders

Bursars/Office Managers
Butlers Road, Handsworth Wood, Birmingham, B20 2NY
0121 554 9581
enquiry@stteresa.bham.sch.uk