Friday 20th May 2022
Reception - All of Reception for a fantastic trip to Atwell Farm Park
Year 1 -
Year 2 - The whole of Year 2 for their great attitude towards Week 1 of their SATs tests.
Year 3 - Jaya - For amazing Guided Reading. Very clear answers.
Year 3 - Eva and Priscilla - super contributions and thoughtful R.E. work on the Eucharist.
Year 4 - Chizi, Mia, Amanvir, Tannai and Essey - For a fantastic persuasive letter to the Department for the Environment about single use plastics. Keep up the good work!
Year 5 -
Year 6 - Tomasz - outstanding drawing of 2D shapes.
Year 6 - Deshon - a brilliant letter in R.E. writing a Doubting Thomas.
Year 6 - Avani - fantastic contributions in class discussions.
Congratulations Assemblies: Autumn Term 2021
Friday 24th September 2021
Friday 17th September 2021
Friday 10th September 2021
Congratulations Assemblies for the Second half of the Summer Term, 2021.
Congratulations Assembly Friday 2nd July
Congratulations Assembly Friday 9th July
Congratulations Assembly 16th July 2021
Spring Term 2021:

At the current time, we are not able to have parents/carers in school on Friday mornings for Congratulations Assemblies.
We are holding virtual Congratulations Assemblies throughout the school on Friday mornings. These are recorded and displayed on the front page of this website by each Friday afternoon. Previous assemblies can all be viewed on this page.

Click on the videos below to see recorded assemblies for the first 8 weeks of the Spring Term (while the school was only partially open).
Friday 12th February 2021
Friday 26th February 2021
Friday 19th January 2020

Well done to all of these children who received certificates in today's assembly. We even had an amazing gymnastic demonstration!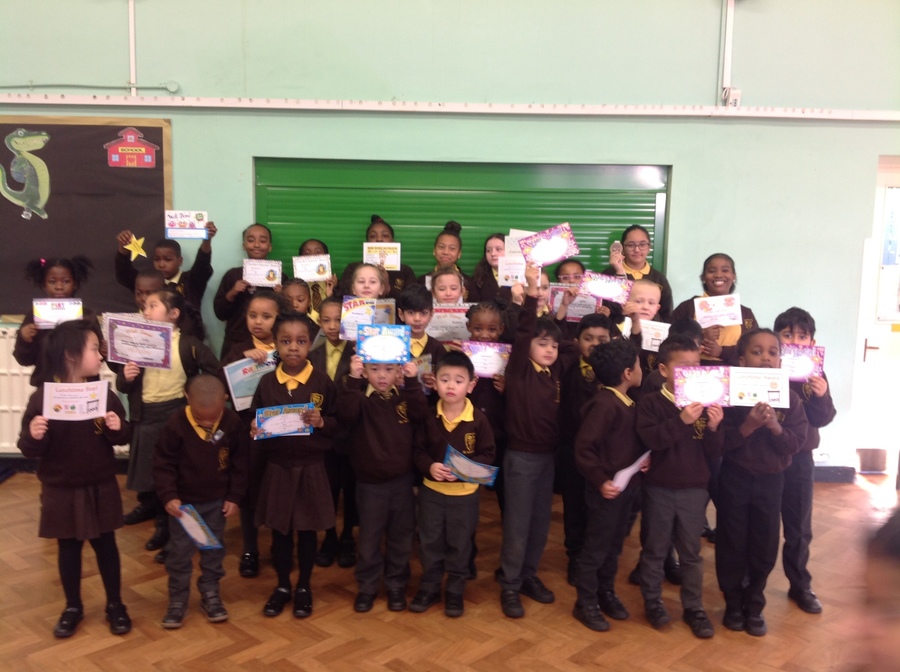 Congratulations assemblies from 12th March 2021.
While we are still unable to join classes together in the school hall, we will continue with our online assemblies in school. These will be shared on this page with new ones appearing on front page of the website each Friday afternoon.
Butlers Road, Handsworth Wood, Birmingham, B20 2NY
0121 554 9581
enquiry@stteresa.bham.sch.uk