Welcome to St. Teresa's Catholic Primary School's website.
Easter Holiday provision
The official end of the Spring Term for St. Teresa's School is Thursday 9th April and the school was due to be closed until Monday 20th April, with only children of key workers and children classed as vulnerable including those with an Education Health Care Plan being in school, if unavoidable, from that date.
There may be key workers or parents of children deemed vulnerable who require childcare provision over the Easter break. If this is the case, there is an arrangement in place for Tuesday 14th, Wednesday 15th and Thursday 16th April for those St. Teresa's children to be taken and collected by parents/carers to/from St. Clare's School, Robert Road, B20 3RT. This provision would be co-ordinated by St. Teresa's School for our children so we would need to be informed so provisions can be put in place if your child is to go to St. Clare's School.
Over the Easter break if there is a need for childcare for children whose parents are key workers or the child is deemed vulnerable please call the St. Teresa's School on (0121) 554 9581 or preferably email enquiry@stteresa.bham.sch.uk for arrangements to be made.
It is anticipated that St. Teresa's School will be available for children of key workers and children classed as vulnerable including those with an Education Health Care Plan on Friday 17th April. Please check this website as at this time that date is to be confirmed.
For those children currently attending school there is no requirement from parents/carers of those children for the school to be open or alternative provision on Good Friday, 10th April or Easter Monday, 13th April. If there is a requirement for child care on those dates please contact school (as noted above) and we will look to establish some arrangement for child care.
Please go to your child's 'Class' page for 2019-2020 from the menu on the left hand side of this page to keep updated with activities and work for your child's year group.
Go to 'News and Diary' to view the most recent school newsletter.
It is a straightforward process to sign up at the bottom of the News and Diary page to have the school newsletter emailed directly to you.
People/Organisations offering support to families during this time
Father Hudson
If you require support from Father Hudson Family Support please contact the school.
Also please look at family support details by clicking on COVID 19 SEND resources and Family Support on the left hand side of this page.
Special Educational Needs Resources
Educational psychologist telephone helpline for parents and carers
Do you as a parent or carer at home with your children during the school shut down, feel that you need someone to talk to about how you can cope with this challenging time for families?
Please click here to open the flyer for further information
You will be offered an initial telephone consultation of 30 minutes with a psychologist and a potential follow up session of another 30-minute consultation at a later date. These will be Monday-Friday, within standard working hours.
Resources for Autism
Please click on the link below
https://resourcesforautism.org.uk/covid-19-update/
From today they are launching an emergency helpline for families which will be available out of hours from 5pm – 9:30pm 7 days a week.
The number to call is 07891 476 293.
RFA will ring the family back. At any other time, families can call the RFA office numbers as normal.
Other SEND information/Resources
On the left drop down menu please click on COVID-19 SEND resources and family support.
Here you will find information about social stories, support groups and useful numbers.
RE learning resources
The Diocesan Education Service have published links to RE learning resources.
Please click on COVID-19 RE resources link ( On the left drop down menu ) to access these resources along with other support materials children can use through Lent, Holy Week and Easter.
Pope Francis called for the world to pray the Lord's Prayer
Last week, we joined Pope Francis live via Vatican TV and we said the the Lord's Prayer. The children and staff then said their own personal prayers.
Below is this week's Wednesday Word.
The Department for Education
The DfE helpline is available for schools, parents between 8am-6pm Monday-Friday:
Phone number:0800 046 8687
Email: DfE.coronavirushelpline@education.gov.uk
From the Department of Education advice on Monday 16th March:
Staff, young people and children should stay at home if they are unwell with a new, continuous cough or a high temperature to avoid spreading infection to others. Otherwise they should attend education or work as normal.

If staff, young people or children become unwell on site with a new, continuous cough or a high temperature they should be sent home.
Everyone at our school wishes you a very warm welcome to our exciting website.
Here you will find a great deal of information about us, and we hope you find it interesting as well as informative.
You are encouraged to take a virtual tour of our school, meet the staff and governors, view our calendar for up and coming events, and view our links to web-based learning activities. Please take advantage of access to other information on our website which is updated regularly.
We hope you enjoy reading our web pages and finding out more about our wonderful school. It truly is a school to be proud of.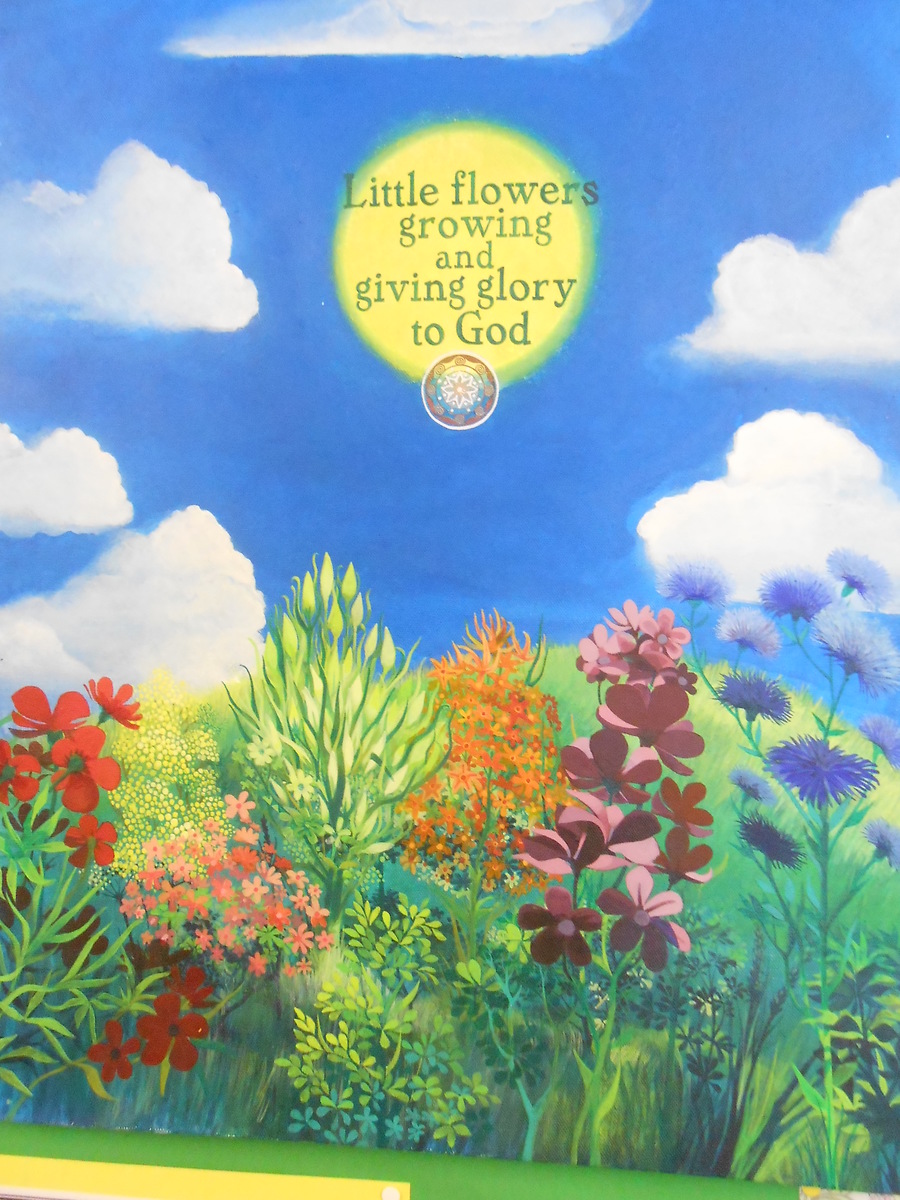 Little Flowers Growing and Giving Glory to God